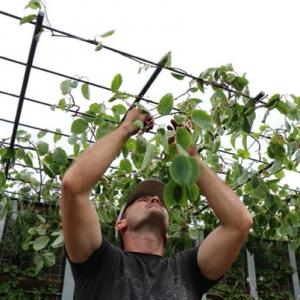 Demand for nature-based solutions has increased exponentially in recent years as the concept has become widely accepted and encouraged by organisations from the EC to the UN. Nature-based solutions are complex, however, and most organisations do not have the capabilities in-house to design, deliver and manage them. Recent reports(UnaLab, 2020) have shown that finding skilled and experienced suppliers is a major roadblock in the wider uptake of nature-based solutions.
Nature-based enterprises can help to meet this challenge. They support cities, private sector and third sector organisations in the planning, delivery and management or stewardship of nature-based solutions in urban, peri-urban and rural contexts. We know, however, that such enterprises experience barriers in starting up or growing their organisation.
---
New paper Published 12th November 2021
"Innovating with Nature: Factors Influencing the Success of Nature-Based Enterprises"
by Siobhan McQuaid,Esmee D. Kooijman,Mary-Lee Rhodes andSheila M. Cannon
Centre for Social Innovation, Trinity Business School, Trinity College Dublin, D02 H308 Dublin, Ireland
*Author to whom correspondence should be addressed.
Abstract
Nature-based enterprises (NBEs) have recently emerged as important actors in the delivery of nature-based solutions (NBS) to societal challenges, but little is known about the context in which they operate and the factors influencing their development. The empirical research undertaken in this study provides a first insight into the most significant barriers and enablers nature-based enterprises face in their external environment. Findings were drawn from a review of literature triangulated with a survey of 148 nature-based enterprises and interviews with the founders/CEOs of 22 NBEs. Political factors were identified as the most significant external influence, with increased awareness and incorporation of NBS into relevant policies and economic instruments seen to play a significant role in market development. Conversely, policy inconsistencies and poorly designed public procurement approaches present significant challenges. Other key influencing factors relate to financing (both public and private), lack of industry standards and impact measurement. Industry networking and access to education, training and skill development emerged as key enablers, with university collaborations highly regarded. Further in-depth research is recommended to explore indications of disparities in the levels of awareness, financing, and skills gaps across different regions of Europe and different nature-based economic activities. View Full-Text and download pdf version.
 
---
Definition of nature-based enterprise
Nature-base enterprises (NBEs) use nature as a core element of their product/service offering.

Nature may be used directly by growing, harnessing, harvesting or restoring natural resources in a sustainable way and/or indirectly by contributing to the planning, delivery or stewardship of sustainable nature-based solutions.
Drawing from the EC definition of a small or medium-sized enterprise1, nature-based enterprises are independent entities which are engaged in an economic activity i.e. 'the sale of products or services at a given price, on a given/direct market'.
 

Nature-based organisations are similar to nature-based enterprises in that they use nature directly or indirectly as a core element of their product service offering. They differ from nature-based enterprises in that they may not operate independently or have a trading income as is the case with nationally owned and operated parks or nature reserves for example
1 https://ec.europa.eu/regional_policy/sources/conferences/state-aid/sme/s...
Nature-based enterprises and organisations are active in the following sectors: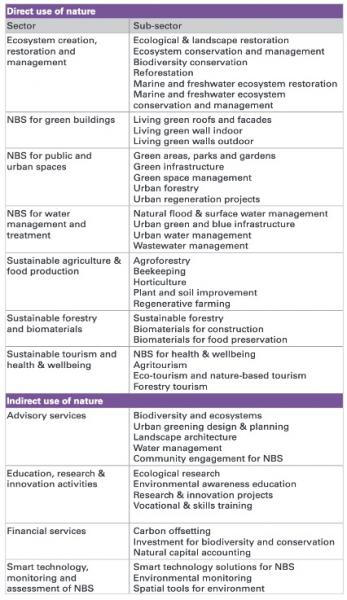 ---
NATURE-BASED ENTERPRISE tools
Nature-based Enterprises Guidebook
This guidebook helps to clarify what is a nature-based enterprise, how to find skilled and experienced nature-based enterprises and how to stimulate and support the start-up, financing and growth of nature-based enterprises.
Download the nature-based enterprises guidebook 
Download the German version of the nature-based enterprise guidebook
Download the Bosnian version of the nature-based enterprise guidebook
Watch the Nature-based enterprise video
Connecting Nature Enterprise Platform
The Connecting Nature Enterprise platform is an online marketplace connecting potential buyers with suppliers of nature-based solutions who can help to design, deliver, manage and monitor NBS. This platform is a stand-alone innovation developed in the Connecting Nature project. It is a sustainable platform that will continue after the Connecting Nature project ends in May 2022.
EXPLORE THE PLATFORM HERE
---
Nature-based Enterprise research findings
Academic paper
Innovating with Nature: From Nature-Based Solutions to Nature-Based Enterprises
by Esmee D. Kooijman, Siobhan McQuaid, Mary-Lee Rhodes, Marcus J. Collier, Francesco Pilla 
ABSTRACT -  Nature-based solutions (NBS) to address societal challenges have been widely recognised and adopted by governments in climate change and biodiversity strategies. Nevertheless, significant barriers exist for the necessary large-scale implementation of NBS and market development is still in its infancy. This study presents findings from a systematic review of literature and a survey on private sector agents in the planning and implementation of NBS, with the aim to identify them. In this study, we propose a typology for organisations delivering NBS and a categorisation of their economic activities. The most common organisation type found is nature-based enterprise which offers products or services where nature is a core element and used sustainably and engages in economic activity. Moreover, eleven categories of economic activities were identified, ranging from ecosystem restoration, living green roofs, and eco-tourism to smart technologies and community engagement for NBS. Nature-based enterprises contribute to a diverse range of sustainable economic activities, that standard industry classification systems do not adequately account for. The recognition of the value created by these activities is essential for designing effective policy support measures, and for market development of the sector and its potential to facilitate the wider adoption of NBS.
Available to download here: https://doi.org/10.3390/su13031263
10 RESEARCH FINDINGS ABOUT NATURE-BASED ENTERPRISES
The first results from the Connecting Nature research survey of nature-based enterprises are now available to download here.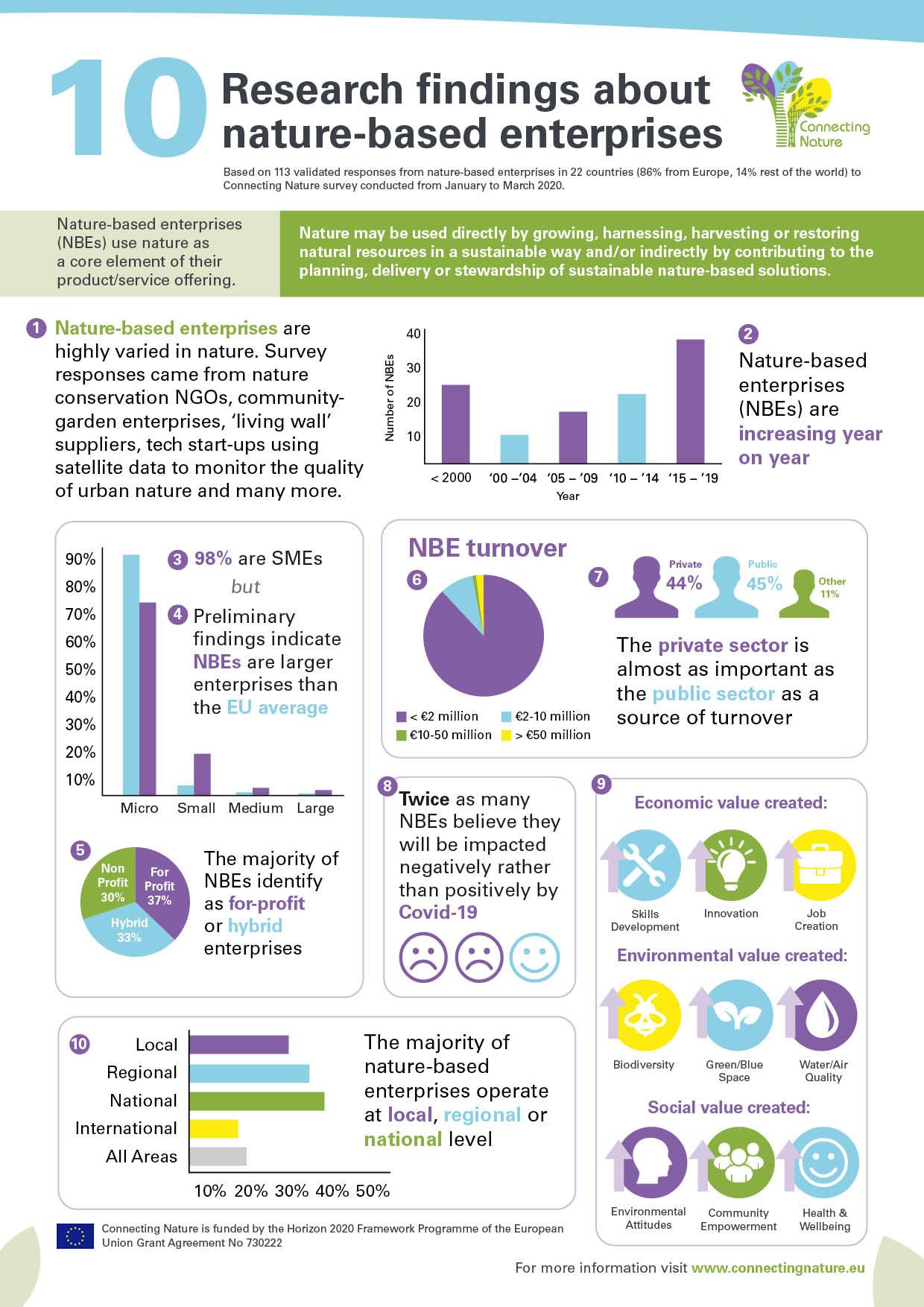 ---
Other Resources
Nature-based enterprise is a new area of research and practice and consequently, there is little in the way of resources. Some useful starting points are listed here:
Introductory webinars:
UrbanByNature webinar on nature-based entrepreneurship https://www.youtube.com/watch?v=5g5OmEXinKw
Nature-based Enterprise Platform:
The Connecting Nature Enterprise platform is available on https://naturebasedenterprise.eu
Other useful documentation:
Burch, S, Andrachuk, M, Carey, D, Frantzeskaki, N, Schroeder, H, Mischkowski, N, & Loorbach, D (2016). Governing and accelerating transformative entrepreneurship: exploring the potential for small business innovation on urban sustainability transitions. Current Opinion in Environmental Sustainability, 22, 26–32. https://doi.org/10.1016/j.cosust.2017.04.002
Eggermont, H, Balian, E, Azevedo, JMN, Beumer, V, Brodin, T, Claudet, J, … Le Roux, X (2015). Nature-based solutions: New influence for environmental management and research in Europe. GAIA, Vol. 24, pp. 243–248. https://doi.org/10.14512/gaia.24.4.9
Frantzeskaki, N, McPhearson, T, Collier, MJ, Kendal, D, Bulkeley, H, Dumitru, A, … Pintér, L (2019). Nature-Based Solutions for Urban Climate Change Adaptation: Linking Science, Policy, and Practice Communities for Evidence-Based Decision-Making. BioScience, 69(6), 455–466. https://doi.org/10.1093/biosci/biz042
Kooijman, E.D.; McQuaid, S.; Rhodes, M.-L.; Collier, M.J.; Pilla, F. Innovating with Nature: From Nature-Based Solutions to Nature-Based Enterprises. Sustainability 2021, 13, 1263. https://doi.org/10.3390/su13031263 
McQuaid & Fletcher (2020) NBE platform infographic
McQuaid & Kooijman (2020) NBE survey results infographic
McQuaid, Kooijman et al (2021) "Nature-based Enterprises: barriers and enablers to growth". Forthcoming.
Sarabi, Han, Romme, Vries, & Wendling (2019). Key Enablers of and Barriers to the Uptake and Implementation of Nature-Based Solutions in Urban Settings: A Review. Resources, 8(3), 121. https://doi.org/10.3390/resources8030121