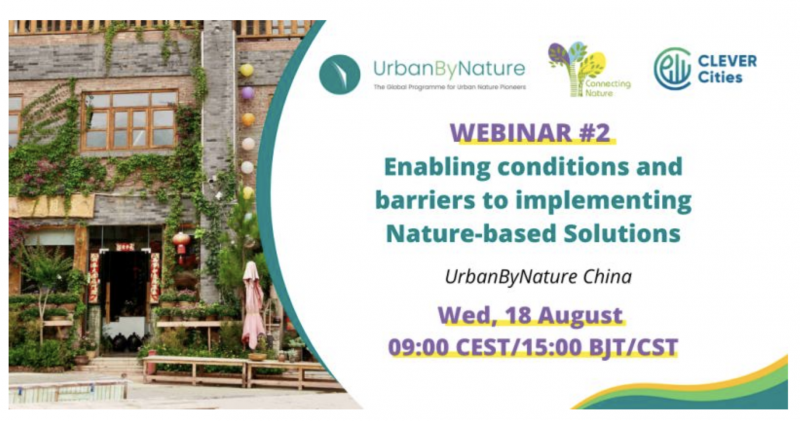 The second UrbanByNature (UbN) China webinar focused on STEP2/EXPLORE of the UbN programme. Speakers from Connecting Nature, CLEVER Cities and China shared their experiences in identifying the enabling conditions and barriers to implementing nature-based solutions. They outlined how to go about uncovering these and which measures to take to address the challenges and leverage the opportunities.
The speakers for this webinar were:
Stuart Connop, Senior Research Fellow, Sustainability Research Institute, University of East London, UK
Nian She, Tsinghua University Innovation Center in Zhuhai, China 
Carolina García Madruga, Senior Researcher in Sustainability and Urban Regeneration, Tecnalia, Spain 
Sean Bradley, CLEVER Cities Programme Manager, Groundwork London, UK 
Taoran Guo, Forest City Studio, Shanghai, China
The webinar was moderated by Merlin Lao, Senior Program Manager at ICLEI East Asia Secretariat Beijing Office, and simultaneous translation (English and Chinese) was provided.
View the webinar agenda here
Visit our playlist for  the webinar on the Connecting Nature YouTube channel,   Webinar 1, Webinar 2, 
If you have not yet registered for the UrbanbyNature programme, please do so here to keep up to date with information regarding the webinar series and other UbN programme updates.
"城市与自然共生"系列培训会第二期 UrbanByNature China Webinar#2
"城市与自然共生"系列培训会第二期将围绕该方法学的第二步"探索"展开。来自"连接自然"、"智在城市"项目和中国城市的发言嘉宾,将分享在中外城市中实践基于自然的解决方案(NbS)时遇到的有利条件和困难挑战。
培训时间:2021年8月18日,北京时间下午3点-4点半,欧洲夏令时早9点-10点半