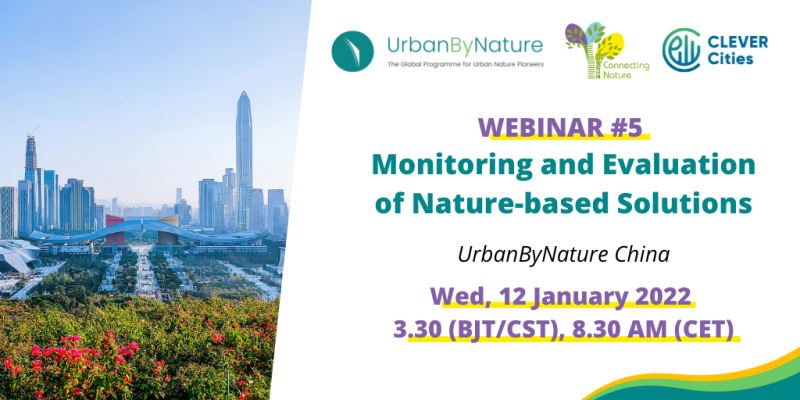 The fifth UrbanByNature (UbN) China webinar focused on STEP6/MONITOR of the UbN programme. Speakers from Connecting Nature, CLEVER Cities and China shared their experiences in developing and using monitoring and evaluation tools and methods for nature-based solutions. They discussed how to holistically measure NBS interventions and assess their impact, and how to iteratively use those measures to change and improve projects. 
David Tomé Lourido, Connecting Nature Coordinator of the NbS Impact Assessment work package; PostDoc Researcher, University of A Coruña, Spain
Gillian Dick, Spatial Planning Manager, Research & Development, Glasgow City Council, UK
Taoran Guo, Founder, Forest City Studio, Shanghai, China
Igone García, Researcher & Project Manager, TECNALIA R&I, Spain
Nicola Murphy-Evans, CLEVER Cities Coordinator, Greater London Authority, UK
Jinfeng Du, Associate Professor, School of Public Policy and Administration, Xi'an Jiaotong University, China
The webinar was moderated by Youde Tang, Program Manager at ICLEI East Asia Secretariat Beijing Office. Simultaneous translation (English and Chinese) was provided.
Visit our playlist for  the webinar on the Connecting Nature YouTube channel,   Webinar 1, Webinar 2, Webinar 3 , Webinar 4 , Webinar 5
If you have not yet registered for the UrbanbyNature programme, please do so here to keep up to date with information regarding the webinar series and other UbN programme updates.
----------------------------------------------------------------------------------------------------------------------------
城市与自然共生项目·系列线上培训 #5
监测和评估基于自然的解决方案的实施效果
"城市与自然共生"系列培训第五期将围绕该方法学的第六步"监测"展开。来自"连接自然"、"智在城市"项目及中国城市的代表将分享基于自然的解决方案的监测和评估方法、工具的开发和应用经验。他们将讨论如何全面评估作为干预措施的基于自然的解决方案及其效果,同时如何通过不断重复应用这些监测和评估方法、工具来提升项目影响力。
本次培训将由宜可城东亚秘书处北京代表处项目经理唐友德主持,并提供中英同传服务。
欢迎注册参会!点击注册后,您将通过注册邮箱获取参会ZOOM链接。
如果您此前还没有在城市与自然共生项目的官网上注册,欢迎点此注册,以获取有关该系列培训和项目进展的最新消息。