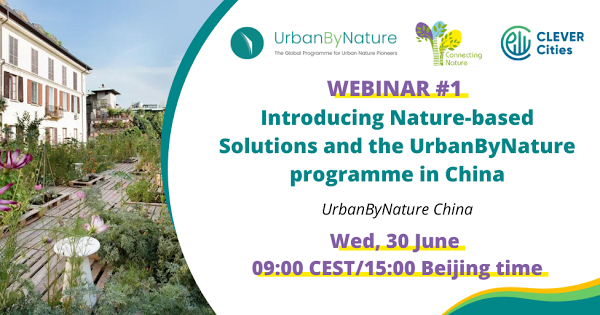 In this inaugural UbN China webinar, participants were introduced to nature-based solutions (NBS) and to how they are being implemented across cities in Europe. Participants learnt about the potential of NBS to contribute to urban regeneration efforts and climate resilience goals. In addition, good practice examples from Shanghai showcased the relevance of NBS for cities in China. During the webinar, participants also had the opportunity to share their experiences and to explore questions with the webinar speakers:
Marcus Collier, Connecting Nature Project Coordinator, Trinity College Dublin, Ireland
Martin Krekeler, CLEVER Cities Project Coordinator, City of Hamburg, Germany 
Shu Zhu, Director, ICLEI East Asia Beijing Office, Beijing, China
Shanghai Changning District, China (tbc)
The webinar was moderated by Merlin Lao, Senior Program Manager at ICLEI East Asia and simultaneous translation (English and Chinese) was provided.
If you have not yet registered for the UrbanbyNature programme, please do so here to keep up to date with information regarding the webinar series and other UbN programme updates.
Visit our playlist for  the webinar on the Connecting Nature YouTube channel,   Webinar 1, Webinar 2,