Drawing lessons from the Connecting Nature project, the UrbanByNature programme conducted its webinar series in Korea throughout June and July 2021, gathering experts from local governments, parliaments, governmental research institutes, and educational institutions to discuss potential applications of Nature-based Solutions (NBS) in Korea. The recordings of the sessions are available here. 
Respective sessions focused on urban forests, green infrastructure, financial resources and governance to mainstream nature-based approaches into planning and practice at a local scale. In addition, questions from the participants were answered live on YouTube.
Here are the main takeaways from the webinar series:
Firstly, although the term "Nature-based Solutions" is not commonly used in Korea, the concept is present in various policies on topics such as Urban Forests, Low impact development (L.I.D) and Green Infrastructure. 
Secondly, financial resources are essential to the implementation of local NBS, but various issues need to be addressed so that budgets from local governments are secured for this purpose, including the lack of an evaluation system.
Thirdly, from planning and implementation to evaluation, public participation is critical to the success of NBS. The Korean society will have to find ways to adopt collaborative approaches to the implementation of NBS in the future.
Throughout the webinar series, strategies to implement NBS in Korea were discussed in light of key issues related to technology, finance, policy, evaluation, and planning. As a follow-up plan, Korea's UrbanByNature hub will organize workshops in October to discuss ways to address NBS in regional biodiversity strategies and to engage public and private stakeholders in relevant industry sectors.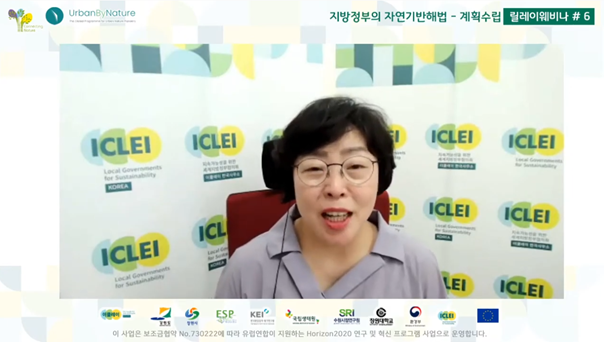 The UrbanByNature Korea webinar series was co-organised by ICLEI Korea and ICLEI Europe in cooperation with the Gangwon-do Provincial Government, the city of Changwon, the Korea Environment Institute, Korea's National Institute of Ecology, the Suwon Research Institute, the Ecosystem Service Partnership's Asia Regional Office, Changwon University and Korea's Ministry of Environment.