Cities are under pressure to address climate change challenges.  Nature-Based Solutions (NBS) have been identified as a cost-effective way of addressing climate change resulting in economic, social as well as environmental benefits.
But who pays for NBS?
At present the business model and route to return-on-investment for nature-based solution is not always clear. This limits interest from traditional financial institutions.  Even for 'patient' impact investors the return-on-investment is often not clear enough to secure investment.
As a result the Naturvation Urban Nature Atlas shows that almost 75% of nature-based solutions are funded from public sources (public budget / direct funding or subsidies). Pressure on public finances is intense so what is the business case for investing in nature-based solutions over other competing public sector priorities? To attract alternative sources of investment what return on investment can nature-based solutions deliver? How should return-on-investment be measured - in monetary terms or also taking into account the environmental and social benefits accrued?
Pressure on public finances is not the only reason innovation in financing and business models for nature-based solutions is required.  Open innovation approaches to dealing with societal challenges recognise the benefits of engaging citizens and societal actors in creating solutions that respond to the specific challenges of their local environment and in designing solutions to meet these needs and environment. While the benefits of co-governance are recognised, implementing co-governance in practice can be challenging.
In response to these challenges, Connecting Nature has developed a number of guidebooks and tools to help cities better understand and tackle the challenges of developing new financing and business models for nature-based solutions.
CONNECTING NATURE FINANCE AND BUSINESS MODELS GUIDEBOOK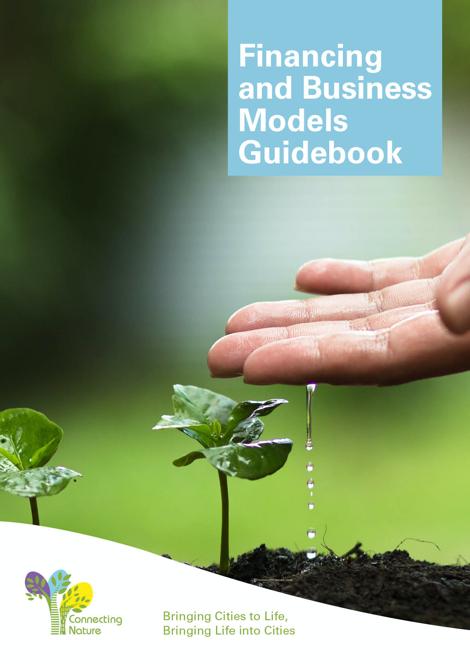 This guidebook introduces the topic of financing and business models for nature-based solutions, identifies some common challenges and enablers to financing and presents a step-by-step guide to securing financing.
Download the finance and business models guidebook 
---
The Nature-Based Solutions Business Model Canvas
Connecting Nature has customised the well-known business model canvas tool specifically to help plan the business models for nature-based solutions. This tool has been deployed directly in 11 cities in Connecting Nature and downloaded and applied by hundreds of other organisations worldwide.
Find out more about the nature-based solutions business model canvas.
OTHER RESOURCES
Financing and business models for nature-based solutions is a relatively new area of research and practice. In recent years however many useful introductory webinars and guidance tools have emerged:
Introductory webinars:
Catalogues of financing instruments:
Business Model Toolkits and other resources:
Other useful documentation:
Almassy, D., Pinter, L., Rocha, S., Naumann, S., Davis, M., Abhold, K., Bulkeley, H. (2018) Urban Nature Atlas: A Database of Nature-Based Solutions Across 100 European Cities. Available at https://naturvation.eu/sites/default/files/result/files/urban_nature_atlas_a_database_of_nature-based_solutions_across_100_european_cities.pdf
EEA (2017) Financing urban adaptation to climate change, EEA report No 2/2017, European Environment Agency. Available at: https://www.eea.europa.eu/publications/financing-urban-adaptation-to-climate-change
Toxopeus, H., & Friedemann, P. (2017). Characterizing nature-based solutions from a business model and financing perspective (Naturvation: Deliverable 1.3 Part V, Issue. Available at  https://naturvation.eu/sites/default/files/news/files/naturvation_characterizing_nature-based_solutions_from_a_business_model_and_financing_perspective.pdf