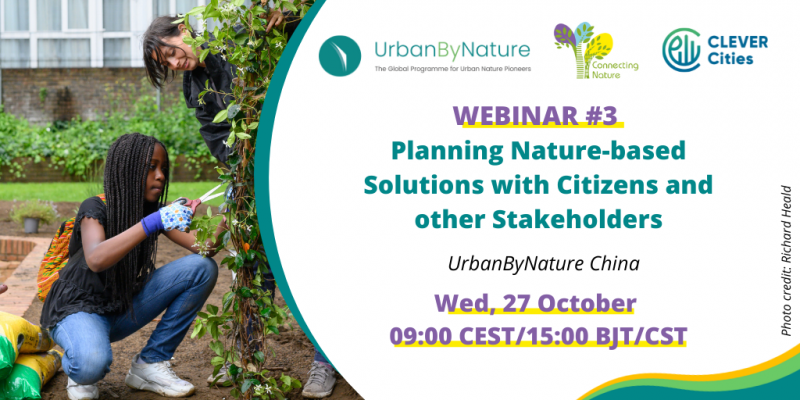 The third UrbanByNature (UbN) China webinar proceeded to STEP3/PRIORITISE of the UbN programme. The webinar provided insights into the importance of stakeholder engagement in the planning of nature-based solutions. Speakers from Connecting Nature, CLEVER Cities and China shared their experiences in working with citizens and other stakeholder groups. They presented different approaches and methods of stakeholder engagement and showcased how they have been applied in practice to create more resilient, livable and equitable urban neighborhoods with the help of NBS.
The speakers for this webinar were:
Carien van der Have, Researcher & Advisor, DRIFT, The Netherlands

Shao Zhifang, Deputy Director of Landscape Division, Urban Administration and Law Enforcement Bureau of Shenzhen Municipality, China

Israa Mahmoud, Post-Doc Research Fellow and CLEVER Cities Research Leader, Politecnico di Milano, Italy

Chen Mingkun, Director of Chengdu Park City Construction and Development Institute, Professor-level Senior Engineer, National Registered Urban Planner, China
The webinar was moderated by Youde Tang, Program Manager at ICLEI East Asia Secretariat Beijing Office and simultaneously translation in English and Chinese was provided.
Visit our playlist for  the webinar on the Connecting Nature YouTube channel,   Webinar 1, Webinar 2, Webinar 3
If you have not yet registered for the UrbanbyNature programme, please do so here to keep up to date with information regarding the webinar series and other UbN programme updates.
-------------------------------------------------------------------------------------------------------------------------------
"城市与自然共生"系列培训会第三期:多方参与,共同规划基于自然的解决方案 
"城市与自然共生"系列培训第三期将围绕该方法学的第三步"定优先项"展开,探讨多方参与制定与基于自然的解决方案相关的规划的重要性。来自"连接自然"、"智在城市"项目及中国城市的代表将分享在这一过程中他们与市民、与不同相关利益团体合作的经验,介绍不同的多方参与方式和方法,并展示如何在实践中应用这些方法,利用基于自然的解决方案创造更有韧性、更宜居和更公平的城市居住环境。
Carien van der Have, DRIFT, The Netherlands

邵志芳,深圳市城市管理和综合执法局园林处副处长

Israa Mahmoud, 博士后研究员、"智在城市"研究负责人,意大利米兰理工学院

陈明坤,成都市公园城市建设发展研究院院长、教授级高级工程师、国家注册城市规划师
培训时间:2021年10月27日,北京时间下午3点-4点半,欧洲夏令时早9点-10点半