About
Population – 200,000
The city is perched on the coast of the Black Sea.
It's a university town with a very young population. Other activities include oil refinery, timber and tourism.
Features include beaches, sea garden, a municipal sea shuttle connecting the city with close-by islands and three lakes.
NBS Exemplar
Burgas Municipality intends to restore the Park of St Teresa located in the heart of the city, beside densely populated residential areas, next to the city bus station, sports centre and city hospital.  Largely neglected since its creation in the 1950's, the park is unused and derelict.  The restoration of the park in a way that protects biodiversity in provides social, economic and environmental opportunities.
Connecting Nature Partner –  Burgas Municipality
Contact: Ivaylo Trendafilov - i.trendafilov@burgas.bg

Challenges
Flooding – particularly heavy rains in winter.
Some areas of Burgas are disused and unattractive.
Engagement with young population.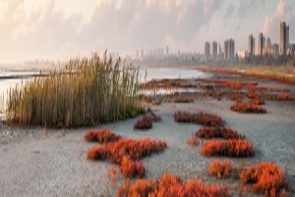 Vision
Burgas is aiming to use nature-based solutions to:
reduce particulate matter in the city, which is a serious problem in the city.
reduce overheating in some parts of the city - city squares and pedestrain zones.
change the mindset of policy makers, architects, urbanists, construction companies etc.that nature-based solutions are investments in the future of the city.
Burgas is currently in the process of:
constructing new public buildings with green walls.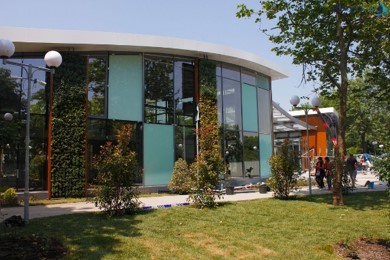 implimenting intnesive greening in rurla parts of the city.
identifying areas in the city:
   - treatened by floods (Burgas water monitoring system)
   - with concentrated particulate matter (Burgas air monitoring system)
  - heat islands, detailed research needs to be conducted.
Identifying areas for free planting of trees by citizens.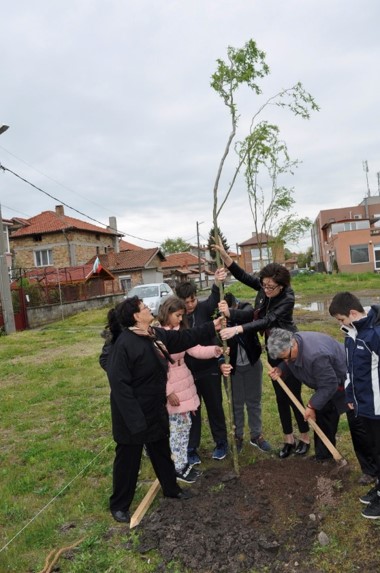 Through the Connecting Nature project Burgas hopes to:
Identify city areas with highest temperatures, analyse their impact on people, environment and infrastructure and plan measures to reduce the "heat island" effect.
Develop a strategy for implementing NBS at local level and legally bind this strategy with city's Master plan.
Attract SMEs and people to be more active in discussions, implementation and monitoring of NBS.

Timeline:
5 years' time
Pocket gardens adapted to needs of local communities have been created.
Rain water is harvested and used for green spaces, reducing flood risk.
Local media and schools raise awareness about nature-based solutions; they also provide channels for youth and citizens to voice their needs.
Fund-raising efforts have started to create an island dedicated to bird habitats.
Planning has started to create a network of waterways and green corridors that connect different ecosystems.
10 years' time
NBS investments are spurred thanks to public initiatives and the general business climate.
There are no ugly/abandoned buildings close to the tourist areas anymore.
The city has become pleasant to live in: the air and water of the lake and sea is cleaner; the wildlife in and around the Burgas lake is stunning.
Burgas has developed leading expertise for harnessing water and solar energy.
15 years' time
Inauguration of the "Big Burgas Bridge" from Sarafovo to Kraimorie, thereby connecting the communities around Burgas Bay.
New forms of renewable energy are being applied in Burgas, including new uses of water microwave energy and plants generating energy.
Burgas is completely free from petrol and diesel cars thanks to the use of new water-fuelled vehicles.
Teobot - Artificial Intelligence Drones and IoT sensors technology are used to optimise the management of rain gardens, lowering the cost of NBS maintenance.
All people of Burgas use the city's green networks, and the city boasts successful green solutions for energy production, mobility and water management.