Belfast, Northern Ireland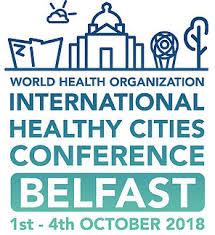 Changing Cities to Change the World
Celebrating Thirty Years of the Healthy Cities Movement
Healthy people and healthy places: participation and prosperity for a healthy and peaceful planet
The International Healthy Cities Conference is a unique opportunity to join mayors, innovators, political decision-makers and experts in the international community in forging greater health, well-being and sustainable development in cities and urban settings. It will provide a wealth of examples of pioneering initiatives; opportunities for learning, knowledge exchange and collaboration; and ideas and solutions to take home and apply to local challenges. 
 
The Conference is an important international gathering for political leaders, health professionals, city planners, engineers, design professionals, innovators and activists. It creates a forum for presenting progress and exploring the issues and challenges that will shape the vision for an invigorated future for the global Healthy Cities movement. 
 
Putting cities on a sustainable and resilient development path requires bold and transformative steps underpinned by new tools, data, ways of working and resources. By engaging leaders from health, environment, planning, transport, housing, technology, education, science and other sectors, the Conference aims to inspire delegates and to reimagine Healthy Cities in the context of tomorrow's challenges. It will emphasize the role of cities in implementing the United Nations 2030 Agenda for Sustainable Development.   
 
The Conference objectives are to:
exchange knowledge from leading-edge practices on challenges and progress from healthy cities' and healthy communities' initiatives across WHO global regions;

demonstrate the critical role of governance for health and sustainable development at the local and urban levels;

inspire and strengthen commitment to healthy cities in the context of tomorrow's challenges and the implementation of the 2030 Agenda;  

consider strong local leadership and its impact on successful collective action; and 

foster discussions through special events and knowledge-exchange seminars that reshape and reimagine Healthy Cites in all WHO regions.
For more infomation and to register click here