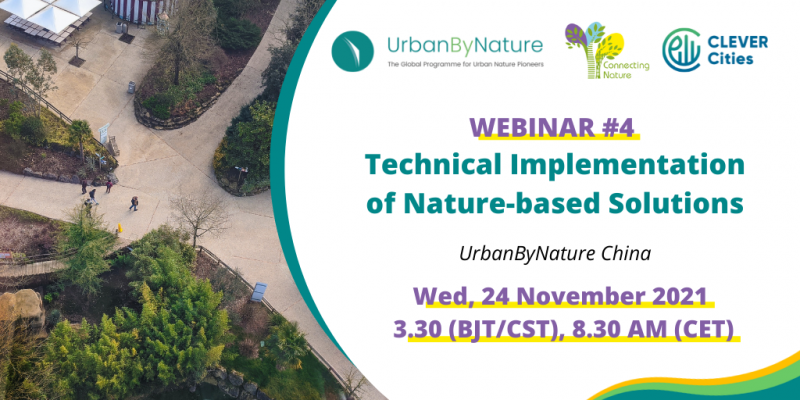 The fourth UrbanByNature (UbN) China webinar, introducing STEP5/IMPLEMENT of the UbN programme, will zoom in on the technical aspects of NBS design and delivery. Speakers from Connecting Nature, CLEVER Cities and China will outline how they went about choosing the most appropriate nature-based solutions. They will elaborate on selection criteria they used for comparing different options such as performance, costs, maintenance requirements and site conditions to identify the right interventions for their local contexts and needs. Furthermore, the importance of facilitating the acquisition of technical skills for NBS design and delivery as well as identifying suitable nature-based enterprises for NBS implementation will be discussed. With the emerging market sector for NBS, different business models need to be explored and further expanded.  
The webinar will be moderated by Youde Tang, Program Manager at ICLEI East Asia Secretariat Beijing Office. Simultaneous translation (English and Chinese) will be provided throughout the webinar.
After registering, you will receive a confirmation email with information about how to join the webinar.
If you have not yet registered for the UrbanbyNature programme, please do so here to keep up to date with information regarding the webinar series and other UbN programme updates.
Date:             Wednesday, 24 November 2021
Time:             3.30-5.00 PM (BJT/CST), 8.30-10.00 AM (CET)
Platform:       Zoom
Language:     English and Chinese
----------------------------------------------------------------------------------------------------------------------------
城市与自然共生项目·系列线上培训 #4
基于自然的解决方案的技术实施
"城市与自然共生"系列培训第四期将围绕该方法学的第五步"实施"展开,聚焦从技术层面讨论基于自然的解决方案的设计和实施。来自"连接自然"、"智在城市"项目及中国城市的代表将详细介绍他们基于当地的情况和需求,采取了哪些基于自然的解决方案及选取这些方案的标准,如成效、成本、维护需求和场地状况等。本次培训还将讨论一,促进分享基于自然的解决方案的技术设计和实施经验以及二,基于自然的企业选取适合的基于自然的解决方案的重要性。随着基于自然的解决方案的市场领域的兴起,我们需要加强和扩大对其不同商业模式的探索。
本次培训将由宜可城东亚秘书处北京代表处项目经理唐友德主持,并提供中英同传服务。
欢迎注册参会!点击注册后,您将通过注册邮箱获取参会ZOOM链接。
如果您此前还没有在城市与自然共生项目的官网上注册,欢迎点此注册,以获取有关该系列培训和项目进展的最新消息。