Operationalising ecosystem services in regional and national forest management planning in the multifunctional landscape of the French Alps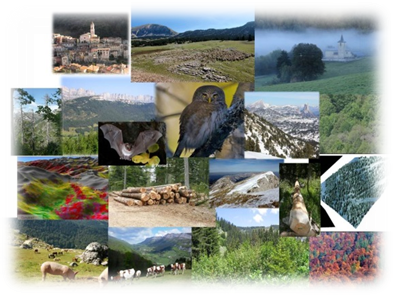 Area characterisation
The Vercors Regional Natural Park (VRNP), French Alps is a 206,000 ha area located at the border between the Northern and Southern French Alps. 139,000 ha are covered by forest land, with altitudes varying from 180 m to 2,453 m. The particular case study selected for this research focuses on 25,000 ha (12% of the total area) located at the North of VRNP, in an area known as "Quatre Montagnes" encompassing seven communes that constitute the region. The area is undergoing important land use changes: afforestation, artificialisation (i.e. increase in urban sprawl, mainly in valleys) and deforestation (http://vercors.fr/fr-ete/decouvrir-vercors-ete-montagne/territoires-plat...)http://parc-du-vercors.fr/fr_FR/index.php
Objective
Designing conservation strategies and adaptive management for the French Alps region. In particular, management options are targeted to support stakeholders and policymakers in making choices.
Potential impacts/benefits
The work underway responds to national level targets set on reconciling biodiversity conservation with the increased demands of natural resources, mainly in managed forests. The work will assist in the simultaneous maintenance of economically and ecologically sustainable forestry on the landscape scale in the long run - the main concern of the National Forest Office in France. Spatial models provided different alternatives for policy makers in order to help target conservation priorities and production management options.
Transferability of the result
The results are relevant to other mountain landscapes in Europe and beyond. The work is focused in a Regional Park with different levels of protection and management. Consequently, the results may be relevant to other protected areas and related decision makers and planners.
Lessons learned
Sustainable ecosystem management and well-being can be enriched with local knowledge and people perceptions. Consequently, we applied innovative methods that do not only facilitate shared understanding of the human-landscape relationships, but also foster participatory decision-making that can be incorporated into landscape planning processes.~
Information on this page is hosted by