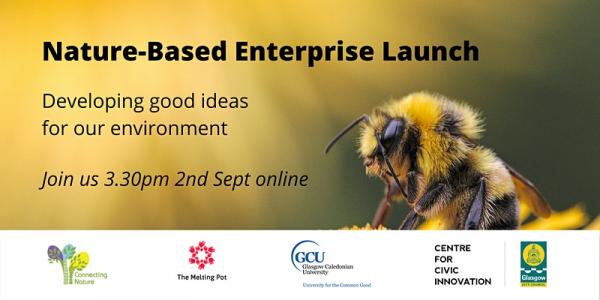 This year Glasgow City Council's H2020 Connecting Nature project, in partnership with The Melting Pot's Good Ideas and Glasgow Caledonian University, have been supporting early-stage impactful nature-based business and social enterprises that are using innovative enterprise ideas to help improve and maintain Glasgow's open spaces.
The programme had been encouraging more local and resilient nature-based economies, to create more green jobs, and help us achieve our net-zero targets.
As we near the end of this inaugural Nature Based Accelerator our participants, Scotland's newest innovators and their nature-based businesses, are preparing to unveil their products, services, and enterprises. These founders are building dreams which will release positive environmental, social, and economic change in Glasgow, and in doing so will inspire others to follow.
Join us from 3.30 - 5.30pm GMT on 2nd September online, where we'll connect people with ideas, where the Glasgow based entrepreneurs will show us how they are making change.
Sign up here