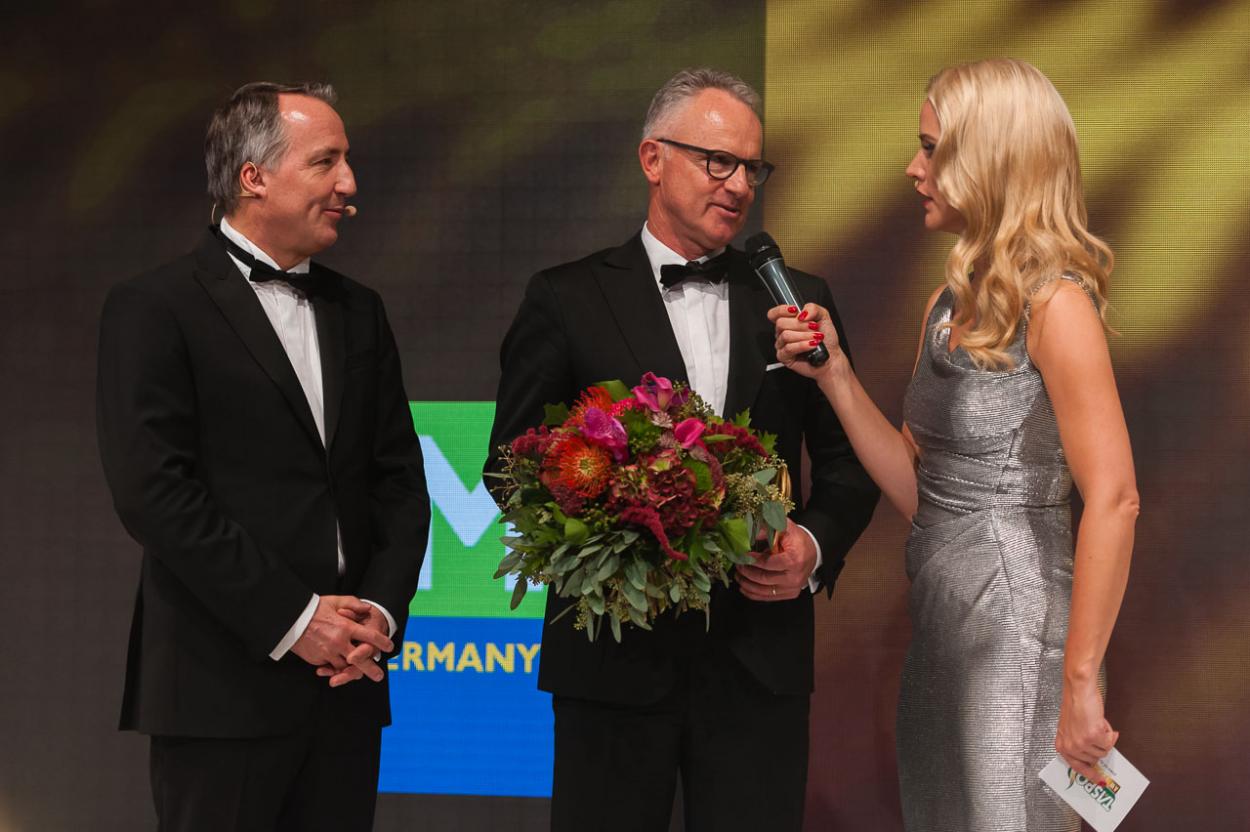 Profile of the Award winning CEO, Master Gardener and Innovative Entrepreneur
Hans Müller deserves to be celebrated.  For those of us involved in Connecting Nature and our previous project on developing resilient cities in Turas, working with Hans, his son Jonathan and all the team at Helix Pflanzen we have seen close up why the most recent accolade of Entrepreneur of the Year bestowed upon him at the TASPO Awards – also known as Germany's Green Industry Oscars is so richly deserved.
For those of you who don't know Hans, let me try to provide you with some insights into the man who for 30 years has been driving innovation in the green industry and more recently in the development of nature-based solutions in Germany and across Europe.
Leadership
Hans started out in the landscaping and gardening industry in the mid – eighties in Kornwestheim near Stuttgart.  As business grew, he expanded the enterprise to supply large garden centre chains across Germany.  Always on the look out for new developments and new ways of doing things, he quickly recognised that "growth potential existed for business by exploiting the beneficial effects of plants".  And so Helix Pflanzen was established in 2001.  "Helix and its employees are curious, embrace change and are open to new ways of doing things – that's what makes us different," says Hans – "that and always remaining customer focused and listening to the needs of the market".
Helix has three production sites across Germany; in Kornwestheim where the business is headquartered, in Rain am Leach and in Leipzig.  Helix employees are central to the success of the business, and are encouraged by Hans to contribute and develop products and services.  "Everyone likes to be proud of their work and wants to be successful.  My employees are encouraged to develop this feeling and see themselves as responsible for the company".  This cooperative style of leadership has clearly worked!
Innovation
Helix is a pioneer in the development of nature – based solutions creating products such as Green Walls which provide solutions for landscaping, backyards, noise barriers and building facades they also reduce the impact of noise and absorb dust and pollutants.  The most recent innovation in this regard has been the planting of a 100m long by 2.6 m high green noise wall in Sachsenheim.
Ever the innovator, Hans and the team at Helix spotted an opportunity to create a "mobile green living room" following the huge success and interest shown after the development of the Green Living Room in Ludwigsburg as part of the Turas project.   This mobile green living room continues to visit European cities and is a great easily understood example of a nature-based solution.  This contribution of Helix towards the creation of resilience and sustainability in cities has led to awards at the European Urban Green Infrastructure Conference (EUGIC) 2015 and a gold medal for the film created about the Green Room in Ludwigsburg at the Deauville Green Awards Film Festival.
Hans has led the development of a spin off enterprise Helix Plant Systems which provides instant green solutions for urban areas specializing in the provision of vertical greening helping address urgent ecological issues facing towns and cities and ultimately contributing towards the creation of greener cities.
Cleaner Production
"I would like to be able to leave my company with a clear conscience and feeling. We rely on the beneficial effects of our plants on people and nature, so the production process has to fit."    As a board member of Nützlingseinsatz e. V., an enterprise in which the goal is to promote integrated pest management in modern crop protection and conduct research on how insects can beneficially help control and eradicate disease, Hans is very committed to introducing these production methods and research findings into how they do things at Helix. 
Giving Something Back
It's not all about business with Hans.  Since 2013, Hans has been involved in the development of a tree nursery project called Chance in Olereko Kenya.  Hans and his team have worked with the local Masai people to develop and expand the nursery, reforest the area and create a school garden.  The aim of the Chance project is to help develop sustainable futures and incomes for the local population.
Why Entrepreneur of the Year 2017?
Hans Müller's enthusiasm and commitment to the green industry is infectious. A leader, thought provoker and innovator he is a leading light in the industry showing that with a bit of courage and fresh thinking, horticulture presents huge opportunities not just to work in in but also has a significant contribution in addressing the ecological challenges we face in our world today.
We couldn't agree more – congratulations Hans.
Photo Credit: Taspo Awards / Andreas Schwarz