Over the last five years I've had the privilege of working with some innovative companies who are passionate about bringing more nature into cities – sometimes they're community enterprises designing and developing 'growing' projects to meet the needs of vulnerable groups. Other times they're commercial entities who have leveraged their horticultural knowledge to create new innovations like green living rooms. Such interventions can instantly transform concrete squares into urban oases - enticing children with little exposure to nature to engage, happily picking strawberries from green walls. More recently, I've met start-ups harnessing satellite technology to come up with so-called 'green-prints' to help cities plan, monitor and benchmark greener, healthier and happier urban environments.
In February this year, Connecting Nature, an EU-funded initiative, launched a survey to explore more widely the concept of nature and business. What type of business can nature support? How can business support nature and society? Just as Europe began to shut down country by country, we reached our first goal of 100 survey responses. A preliminary analysis shows that nature-based enterprises offer considerable potential in a post-COVID environment - not just to create much-needed jobs but equally importantly at a social and environmental level. Nature-based enterprises offer sustainable solutions to transform grey spaces into green lungs for cities - lifelines for apartment-dwellers, for homeless gym-bunnies, for communities as a whole, for nature. 
Last month we launched a mini-follow up survey to find out how these businesses have been affected by COVID19.  Anecdotally we have seen a wide divergence in impact – any kind of food-growing business has seen interest skyrocket; the more local and natural the produce, the more insanely busy they have become.  On the other hand, nature-based businesses depending on the construction or public sector have virtually closed down overnight, with tons of plants wilting on pallets waiting for on-site construction which has effectively been put on hold.
With plans afoot for the gradual re-opening of society, what will a post-COVID world look like for these nature-based businesses?  Faced with mounting pressure, will the public sector, business and construction sector put nature on the long finger again? Will governments roll out short term economic stimulus packages focusing on a return to 'business as usual' as quickly as possible? Will workers return in their hoards to city-centre offices on packed commutes? Or will government and businesses seize this opportunity to reflect and consider the situation we were in before this crisis– where 'business as usual' led to unsustainable economic cycles contributing to climate change and biodiversity devastation in another type of emergency.
We are facing now into a pivotal moment in time where it is possible to contemplate an alternative recovery plan. Governments and decision-makers need to take time out to reflect on the importance of small business, local business and nature-based business for community resilience.  Business leaders need to consider the proven benefits of bringing nature into work environments or even better the possibility of creating new working environments in commune with nature. We have the opportunity to incubate a new business sector – to stimulate the start-up of new nature-based enterprises and support the re-emergence and growth of existing nature-based businesses. Can each of us make the case in our own community for investment in a different type of business – nature-based businesses that contribute to resilience, community connectivity and that most crucial element we have all come to appreciate – quality of life.
(Note: The Connecting Nature survey of nature-based enterprises is open to enterprises globally. We welcome your insights on the impacts of COVID 19 and future opportunities for this sector. Click here for more information.)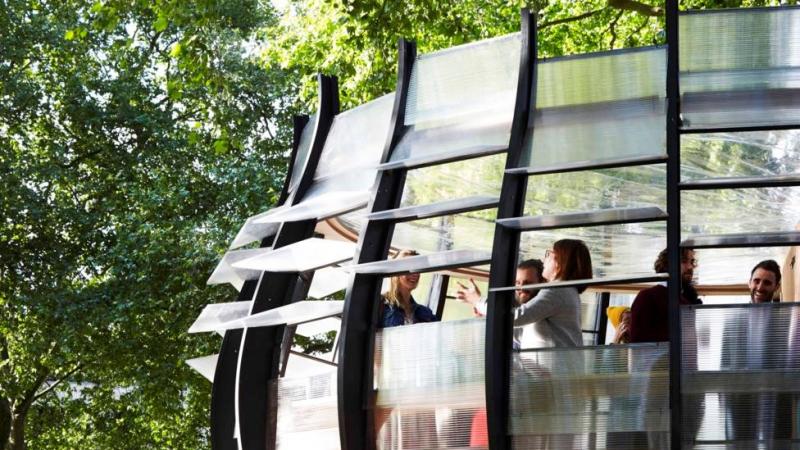 Source: Borzykowski, B. "The outdoor office spaces where workers commune with nature" BBC (2017) https://www.bbc.com/worklife/article/20170517-the-outdoor-office-spaces-where-workers-commune-with-nature (accessed 22/4/2020)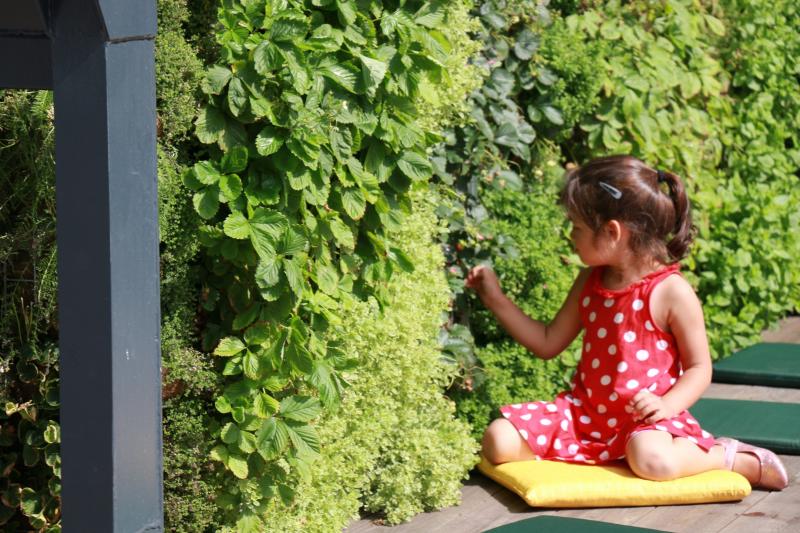 Exploring nature on a mobile green living room (Photo credit: Jonathon Muller, Helix Pflantzen)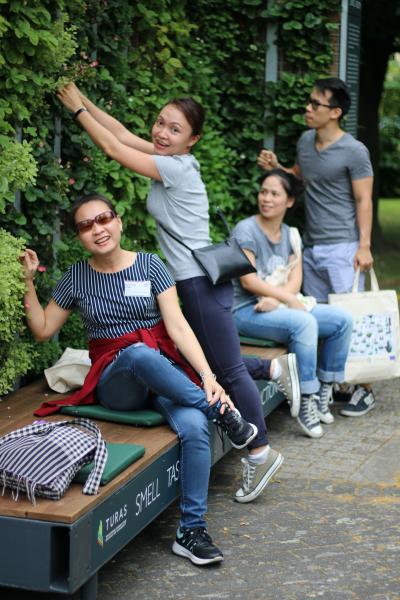 Getting in touch with nature on the mobile green living room (Photo credit: Jonathon Muller, Helix Pflantzen)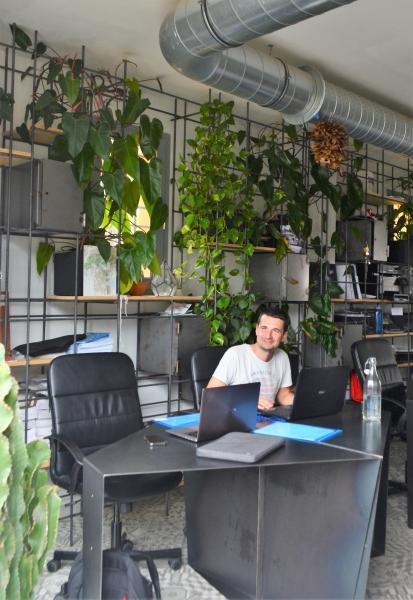 Indoor green wall in co-working space, Le Serre, Bologna, Italy (Photo credit: Siobhan McQuaid)
This essay originally appeared at The Nature of Cities : https://bit.ly/2WKPRMa