It crept up slowly, the tension building. Work on Friday 13th March was relatively normal. Work on Monday 16th March was not. The train was crowded and uncomfortable. People looked worried. We were still in "herd immunity" policy. Social distancing had started and we were playing a waiting game.  By the time I went home we were heading towards lock down. A week later we were there. We offered a collective sigh of relief. Then into how to we make this work.  Our IT systems were not ready and some of our team members found themselves in full on hack mode.  It took us a week to get our planning service up and running again. Unlike our colleagues dealing with Parks, Roads and Environmental Health we quickly discovered that there was lots of work that we could do from home. Planning applications still need to be processed; government consultations still need to be responded to and as Planners we started to think about how to get our communities back on their feet once we come out of lockdown.  The sheer tenacity and resilience of my team astounds me every day.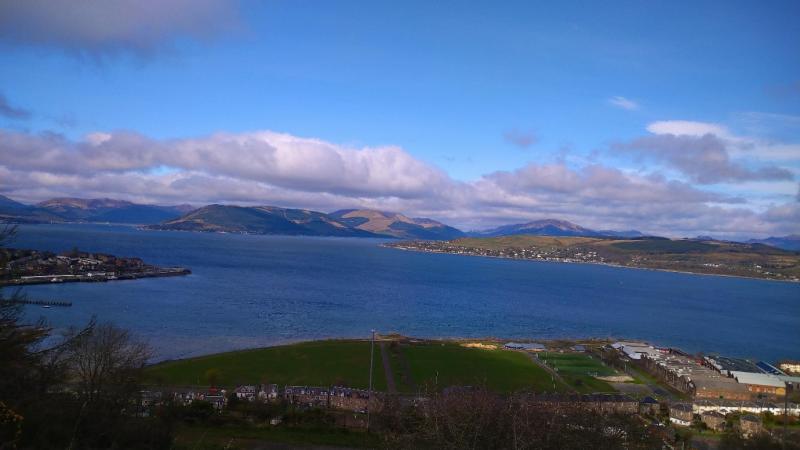 © Gillian Dick
I revisited a set of essays that were published after the Christchurch earthquake in 2011. They were grouped under a set of headings that to my mind builds a framework for the future and makes me think differently about what the new normal of urban planning will be and where modern British Town Planning came from:
Making Plans- We've always made spatial plans. The idea goes right the way back to the UK response to the Cholera epidemic in 1848. The first planned places came from the first Public health act that recognised that in order to be healthy people need space.
Selling the plan –   The Boar War exposed the poor health of recruits and led directly to the first UK planning legislation in 1909
Rewriting the rules - The idea to plan for places grew following the Spanish flu pandemic of 1918, which led to a greater emphasis on the need to have open space within housing areas and on to the garden city movement.
Considering the common good – The devastation of WW2 led to the 1947 Planning Act that viewed unregulated market forces as a threat to public health.
Thinking Big – Post war urban planning sought to rethink and reimagine communities that were fit for modern living
Acting Small – Gradually planning and health disconnected. But communities started to think that there was a better way. Community empowerment and activism started to grow.
Meeting in the middle – Covid – 19 is changing everything. Are our resilient communities still going to be there? Is a new community spirit emerging?
Building back better – In lockdown people need space both within and around buildings that they can call their own. Balconies, roof gardens and more generous building space requirements are needed.
Reimaging recovery – There is a new normal coming for our communities. A new way of being and a new way of living. Will we embrace a more locally connected world? Will we return to the old normal?
/sites/default/files/images/inline/timeline%20graphic%20%28002%29.pdf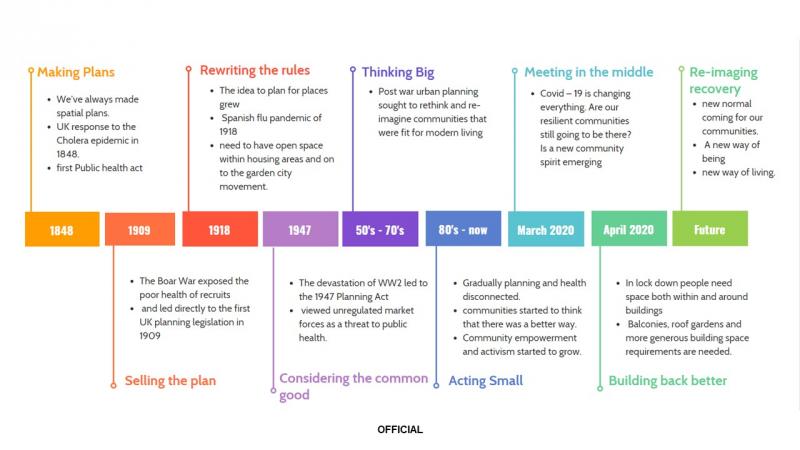 Covid -19 has upended all my normal routines. I'm optimistic that the new normal creates a more resilient; equitable place where more people work flexibly and in different ways. I don't think any of the folk that I work with think that we will go back to where we were 4 weeks ago. It's an opportunity to reset; reinvent and reimagine. We definitely need to take the opportunity to build back better, but we also need to pause and not rush when we hit the reset button. We need the right rebuilding, in the right place, at the right time for the right communities.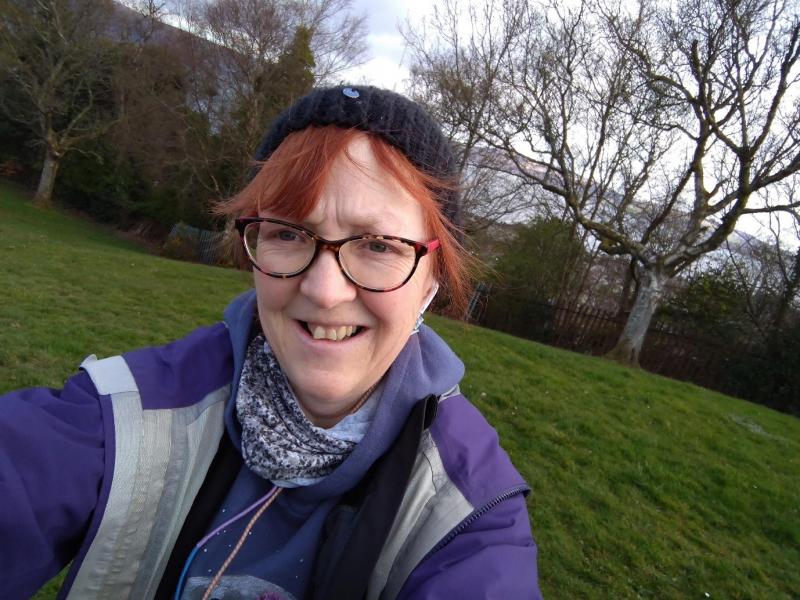 © Gillian Dick
This essay originally appeared at The Nature of Cities : https://bit.ly/2WKPRMa