University of Rome Tor Vergata, Italy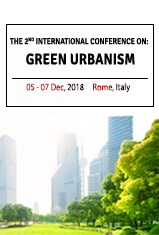 GU 2nd Edition is about the importance of green urbanism and sustainable development and how can it affect the environment positively. This conference will be aimed to provide solutions towards zero waste cities.
     Green urbanism is an attempt to create a more sustainable place, using fewer resources. By putting together the term "green" and the study of "urbanism" and despite its promise of a sustainable, energy-efficient and developed world, we are still faced with deep challenges.
     Therefore, green urbanism combines the work of engineers, urban planners, economists, transport planners, architects. Hoping for improving the relationship between humans and their environment by focusing on the city.
     Cities must become the most environmentally-friendly model for inhabiting our earth. It is more important than ever to re-conceptualize existing cities and their systems of infrastructure, to become compact, mixed-use and polycentric cities.
     IEREK organizes this conference to deal with cross-cut issues in architecture and urban design and addresses the question of the ways we can best and cohesively integrate all the aspects of energy systems, transportation systems, waste and water management and passive and active strategies into contemporary urban design and improved environmental performance of our cities.
     The significance of this conference lies in the pressing need for the integration of sustainability principles in the urban design process of cities and the general need for sustainable development. It will be of particular relevance to the rapid urban growth of developing cities.
     The conference also provides a context for a general debate about the regeneration of the periphery, peri-urban fringes (and city center) as a catalyst for energy and skills, and discusses how green urbanism is affected by the paradigms of ecology.
To register and for more information click here.